The tragedy of Gabby Petito's murder has become even more complex and confusing as new Axon Bodycam footage from the Moab Police Department has shed additional light and greater detail on their domestic dispute of August 12th. Initially, Petito told Police that her boyfriend Brian Laundrie hit her during an argument, only for her to rapidly backtrack and claim that she was in fact the aggressor. Laundrie made the claim that he "didn't have time" to defend himself against any allegations that he struck her.
The footage released by Fox News, is from the perspective of a second officer, rather than the version available on Youtube presently. The video, which was obtained through public records requests from Fox News and FOX 13 Utah, shows Moab PD officers struggling to address the situation within the confines of Utah's statutes on domestic violence. Many critics have suggested that had the officers followed the letter of the law, Petito may not have died, pointing to behaviors common among abuse victims experts have stated she exhibited in the bodycam footage. They specifically cited her reaction to police presence as signs of manipulation from an abuser.
Bodycam Footage Yields More Questions Than Answers
Fox News reported, "Before police encountered Laundrie allegedly speeding up the entrance ramp to Arches National Park just north of town, a dispatcher told them that the reported party witnessed "a male hit a female" outside the Moonflower Cooperative – an organic grocery store just off Main Street." An officer attempted to pull over the speeding vehicle only for it to jump the double-yellow lines on the roadway and collide with the curb at speed. The officer then approached the vehicle, observed the couple with Petito seemingly in distress when another Moab officer and two US Park Rangers also responded.
"I pushed her away," Brian tells the officer. "She gets really worked up, and when she does she swings and she had her cell phone in her hand. So I was just trying to push her away."
"He got really frustrated with me, and he locked me out of the car and told me to go take a breather, but I didn't want to take a breather," Petito says in the new video. "And I wanted to get going. We're out of water."
"He like grabbed me with his nail, and I guess that's why it looks, I definitely have a cut right here. I can feel it, when I touch it it burns." Gabby told officers.

"Did he hit you though?" the officer asks.

"I guess," she replies – although she still appeared to downplay the incident to the second officer and try and assume blame herself.

"I guess, yea," Petito continued, with tears in her eyes. "But I hit him first."

"I'm not sure," Petito said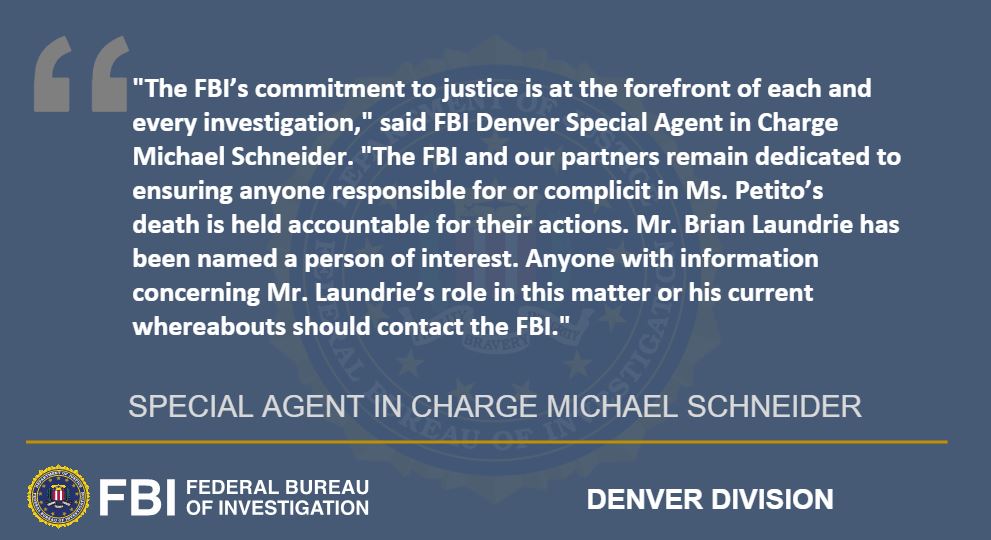 Fifteen days later on August 27th, witnesses would spot the couple at Merry Piglets, a nearby Tex-Mex restaurant,  in what has been described as "an explosive argument." It would be the last time anyone would see Gabby Petito alive. She was found dead on September 19th in a camping area within Grand Teton National Park in Wyoming.